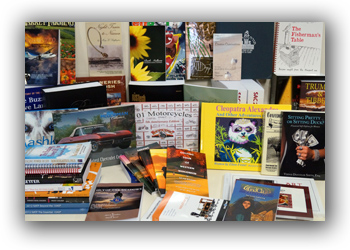 We can help with cover designs, typesetting, table of contents, and insertion of photographs and art. We can provide a list of recommended software applications for submitting files to us, that enable the smoothest compilation of materials.




Here are a few helpful suggestions to make the process go smoothly:
Carefully proofread your pages (including titles, headers, footers, and front pages) multiple times and have several other people proof it. Making numerous changes after a proof has been sent to you will incur extra charges and cause delays. Take your time and do not rush through the process

Make sure photos are the correct resolution and margins and formatting are correct.

If you are furnishing a press-ready cover, make sure it is formatted correctly.

Create your PDFs.

Consult with us if you have any questions. We want you to be happy with the results, and we are here to help.


Contact us today - one phone call or email gets you started. From your free estimate to your finished format,
Books On Demand is your partner in publication.